Engineer Shola Williams is recognized as one of the best audio engineer and practitioner /music producer and director in Nigeria.
The Multiple Award winning audio engineer/music producer and Director has being Reforming the Nigerian Music industry over 2 decades ago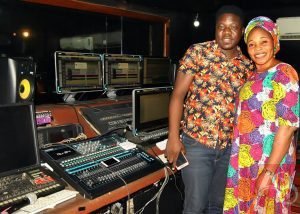 Shola Williams Ogunjimi was born into a simple God fearing family.
His foray into music actually started at the tender age of 5 when he used to fondle with the keys of the piano via his father's guidance, As he grew, he developed himself in other musical skills and became an multi instrumentalist as a teenager.
However, he has to go to school while he was still pushing his Music career alongside too.
He studied law and also bagged his BSc in political science and education at Lagos state university.
He studied computer technology at Capol institute in the year 1998.
Then proceed for an professional audio course in the late 90s.
He ventured fully into the music industry in the year 1999.
As an Audio technologist and acoustic engineer he constructs, installs and configures Recording Studios, Radio stations, cinemas,T.V stations,audio broadcast and events... Shola Williams has produced several artiste home and abroad.
He produces all genre of music both secular and gospels.
The multiple award winning audio engineer/music producer as worked with several record labels,promoters and music marketers .
He had also worked with the old and young artists such as ...
Iya aladuke a popular traditional artist(Senwele Music)
- Lanre teriba
- Beejay Sax
- Fatai rolling dollars
- Day star Christian center (MASS CHOIR)
- Ayanjesu gospel singers
-tope alabi
- Ajogbajesu twins
- Princess ifemide
- Adeyinka Alaseyori
-iya 'n' Ghana (Muslim artiste)
- Gbenga Adewusi (Bayowa films and records)
- Shiloh
- Golden angel
- Kay wonder
- Seyi akins
-Apala jazz
- Prince itopa (traditional Ebira artiste)
-jk PEACE project which features
- Fatai rolling dollars
- Shola allyson
- Baba fryo
- Megga 99
- Obesere
- Pasuma
- Baba ara
- daddy fresh
And so on...
He has also worked with several top music marketers holding Nigerian Music industry like:
- Mayor Gbenga Adewusi (Bayowa films & records) and his signed artists
- Marketer and promoter Abiodun Oropo
- Marketer and promoter Sunday Esan (Okiki films)
- Marketer and promoter Afeesco
Divine music international,
Sybuk communications
And others...
Engineer Shola Willams is currently the CEO of Audio Engineering institute, Music Kitchen and also runs PUNCH music Village as part of his calling to reform the Music industry globally.
He is also the Senior studio engineer at Nowahala Media PUNCH estate.
Hotline +2348022393222
Fb-shola Williams
FB Shola Williams II
FB -Shola Williams & friends
IG @sholawilliamsofficial
engineersholawilliams@gmail.com
engrsholawilliams@gmail.com
Check out Shola Williams photos below